Read Time:
2 Minute, 39 Second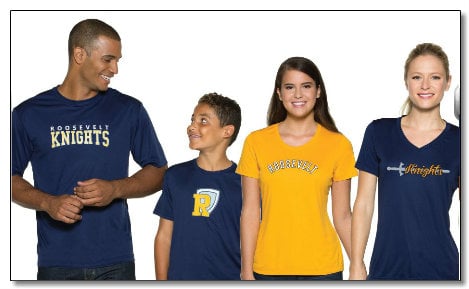 Broken Arrow T-Shirt Selection Guide Part 2
Are you choosing the right T-shirt for your needs? What are the differences between performance T-shirts and other T-shirts? Should you choose a tri-blend T-shirt, a 100 percent cotton T-shirt, or a cotton-poly blend? Broken Arrow T-Shirt Printing and Embroidery has the answers!
What is a Performance T-Shirt?
Fabrics that can wick away moisture are often used to make performance T-shirts and athletic wear. The T-shirt material, typically composed of synthetic fabrics, allows more air to circulate or "breathe", which helps keep the user's skin dry from sweat. (Pure cotton shirts, on the other hand, tend to hold moisture in.) Wicking fabrics typically cost a little more than 100 percent cotton T-shirts. Depending on what you will be doing when you wear your T-shirt, this can be money well spent. For example, if you'll be wearing your shirts to exercise or perform physical labor, you'll be more dry and comfortable in a custom decorated performance T-shirt. If you live in a hot climate and work outdoors, performance T-shirts and polo shirts are both excellent choices. Wicking fabric can be easily screen-printed and lend a high-quality look and feel to custom decorated apparel and are excellent choices for active businesses and organizations, and athletic events.
What is a Tri-Blend T-Shirt?
Like performance T-shirts, tri-blend T-shirts are an excellent alternative to a 100-percent cotton shirt. The fabric for tri-blend t-shirts is typically composed of three materials—polyester, cotton, and rayon. Professional athletes often wear tri-blend T-shirts as their warm-ups. Tri-blend custom decorated T-shirts are super-soft, wrinkle resistant, and nearly as breathable as a performance T-shirt, which makes them great for an active workout or an inactive day binge watching your favorite new Netflix series. Like Performance T-shirts, this fabric tends to be a little higher priced than 100 percent cotton or polyester-cotton blends. Tri-blends also look great when custom screen-printed with your logo or custom design. Our customers love tri-blend shirts, so you may want to consider a tri-blend for your next custom decorated apparel order.
100% Cotton or a Cotton-Polyester Blend?
All cotton T-shirts have been the staple for decades. They are super affordable, long lasting, and downright comfortable. They are typically a bit thicker and heavier than cotton-polyester blended T-shirts, which for some people, corresponds to quality. 100% cotton T-shirts will wrinkle and may shrink, particularly when washed in hot water. Look for all-cotton brands in our product catalog marked "pre-shrunk." A shirt made from from cotton and polyester blend, on the other hand, is less likely to shrink or wrinkle than it's pure cotton counterpart, and is also less likely to stain. Cotton-polyester blends are also super-affordable, too.  When a cheap price is what matters most to you, go with either a 100% cotton custom decorated T-shirt, (heavier feel) or a cotton/polyester blend custom decorated T-shirt (lighter feel).