Hot Product Alert! Pom Pom Jerseys!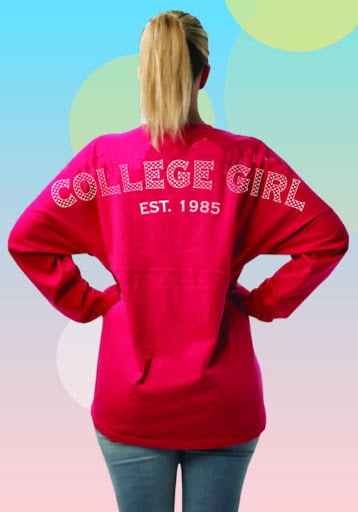 Have you ordered this awesome new shirt for your club or team yet?  Pom pom jerseys, aka Game Day jerseys are the hottest trend this spring!  Pom pom jerseys pair great with a pair of leggings or jeans, and have a comfortable, relaxed look.
You may know pom pom jerseys best by the big print on the upper back.  At Broken Arrow, we call this a Billboard print, which gives you that big upper back print that is larger than what would fit on a standard t-shirt.  In fact, our billboard print option only fits on pom pom jerseys.  The billboard screen print can be about 22″ wide by about 5″ tall or so on the upper back of the shirts.  Specialty inks are popular options as well.  Puff ink works great on pom pom jerseys, and gives the design a raised up look and feel.  Metallic specialty inks like ultra gold shimmer or silver glitter also work well to give your design some extra wow factor!  You can of course add a print to the front as well if you would like.  A common option is a left chest print along with the billboard print on the back, but you can mix it up however you would like!   The minimum order requirement for pom pom jerseys is just 6 per design.  And, the best part about custom silk screen t-shirts is you can mix different shirt colors in the order as long as the design remains the same, so you can order pom pom jerseys in a variety of colors for your group or club!  Chat with one of our friendly sales reps today or get your t shirt printing quote right online!