Custom Jackets for Business Teams

Custom Jackets for Businesses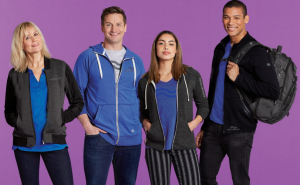 Make your crew look sharp and stay warm all winter long with custom jackets embroidered or screen-printed with your business logo. Choose from many jacket styles that will make your service and sales team look sharp when they are out on customer calls.
What are the Top 5 reasons you should provide your team members jackets customized with your company logo?
Displaying your logo prominently on custom jackets that your employees wear on all business calls makes your employees easily identifiable by your customers, lending a sense of trust.
A jacket with a logo is an excellent and cheap advertising tool. Your employees will encounter many people in the course of a day and all of them will see your logo. This also helps make your company recognizable and memorable.
Having your business logo on custom jackets encourages a sense of belonging and pride among employees. When you dress like a team, you feel like a team.
Having a uniform jacket is a great equalizer. Everyone from the owner and CEO to the part time employee can wear a company logo jacket showing that everyone on the team is valued.
Wearing your company's brand name prominently reminds employees to uphold company expectations while on the job.
Choose from multiple jacket styles!
So does Broken Arrow Screen Printing and Embroidery practice what we preach?
Absolutely! Every employee wears Broken Arrow company logo wear to work and beyond, from the CEO and General Manager to the artists and screen printers.
Author: Amber Barz