Read Time:
2 Minute, 10 Second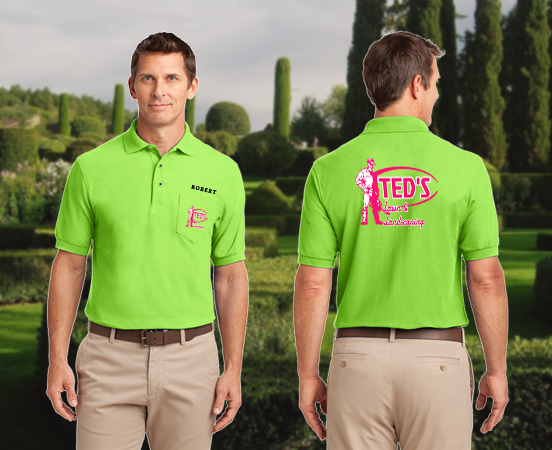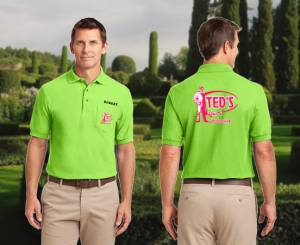 What happens when you order custom made apparel from Broken Arrow?
Let's say you want to order some comfy and attractive dry-fit polo shirts for your landscaping business. On the front of each lime green shirt is each individual employee's names and your business logo. On the back of the shirt is the name of your business, "Ted's Lawn and Landscaping." You are ordering 20 shirts, one for everyone who works in the office as well as for every member of the landscape crew.
What do we need from you?
To ensure a good fit for each employee receiving a shirt, you'll need to provide us everyone's polo shirt size—small, medium, large, extra large, and so on. You'll also need to provide us with the proper spelling of each individual employee's name.
Shortly after your order is placed, at least two Broken Arrow production team members will review your polo shirt design to make sure the logo, individual names, and business names look great, are highly legible, and ready to print.
Approximately one business day after order placement, your polo shirt art proofs will be created. These art proofs are especially important as they include all the customization details including embroidery thread colors, ink colors, font types and sizes,the exact print locations and more. When your proof is complete, we send you an email with a link to your artwork. Click on the link to see your art.
Spend some time reviewing your proofs to ensure everything is just the way you want it. Make sure every employee's name is spelled correctly and that your business name and logo looks exactly like you want it to. (As careful as we are, we can't know how individual names are spelled, so please check your proofs carefully.)
Whether or not everything is hunky dory, click the button that says,"click here to approve or change your art." If you love what you see, click "I approve my art exactly as shown on the website,"and then click submit. If you need to make changes to your proof, click the button that says, "I DO NOT approve my art as it is shown on the website." List any changes that need to be made in the box below the disapproval button and then click "submit."
If you have questions or are having trouble with the proofing process, no worries. We are happy to help! Simply call our customer service professionals at 800.810.4692 or contact us via email.