Read Time:
1 Minute, 24 Second
Cool Custom School Spirit Shirts Cheap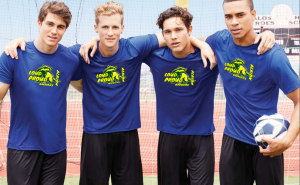 Tired of the same old boring school spirit shirts? Want something that you're actually excited about wearing?!? We are here for YOU!!
At Broken Arrow you can create THE BEST CUSTOM SCHOOL SPIRIT SHIRTS CHEAP. It's so easy and FUN!
First, pick the brand and the style of your custom school spirit shirt. Browse through our online catalog and choose a stylish, yet comfy tee, a cool tank top, a vintage look hoody, or even a North Face jacket. We have thousands of options to choose from all organized into categories so you can find exactly what you like in a couple minutes or less.
Next, custom decorate your school spirit shirt! Choose from these super easy options:
Create your own design on our super easy-to-use online designer. Choose from a giant array of online templates and then modify the design with additional cool graphics, your school colors, slogans, or anything else you like. It's easy and it's FREE. Don't forget to decorate the front, the back, and the sleeve of your custom school spirit shirt!
Create your own design on paper or on any graphic design program you like and upload your art to our online designer. Uploads are FREE!
Not feeling creative? No problem. Ask one of our super talented artists to create a totally cool, totally custom design for you. This option is also FREE!