Tested and Loved by our customer and staff
It can be worn in all sorts of different ways. Whether you're out jogging or just commuting to work, we love the versatility of this one!
---

No Minimum Custom Midweight Full-Zip
Any quantity, any size, we have it! 👉 Pro tip: Digital Printing ( DTG ) is the recommended decoration method for this no minimum option and the garment has to be at least 80% cotton.
---
Custom Name Brand Midweight Full-Zips
Choose from the brand Under Armour to Champion, masters of hoodie to keep you warm, stylish, and under the radar.
---

Custom Eco-Friendly & Sustainable Midweight Full-Zip
Ooh-la-la, these hoodies are so soft and cozy. Plus, they're ethically sourced and naturally dyed - they'll help you look and feel great in every season.
---
Customize Midweight Full Zip Hoodies: Which print method is right for you?
With options galore, it might be confusing to know what decoration method is right for your project.
Here is a guide to help you choose: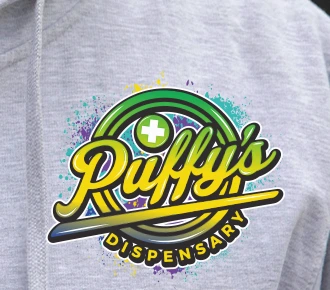 Screen Printing
Screen printing is typically going to be the preferred, most cost effective method for zips. Pricing is based on quantity and number of design colors.
Embroidery
If you want your logo to be more professional or higher end looking, embroidery can offer that look. Your logo is turned into a stitchable design by our team.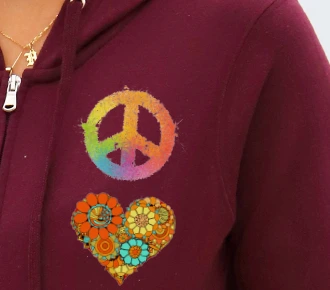 Direct to Garment Digital
Choose digital if you are ordering less than 6 pieces, your design is super high in detail (like a photograph) or your design has a ton of colors.
Design Mid-Weight Full Zip-Up Hoodies Online
We make it really easy to design your custom midweight hoodie. Select your garment, upload your company logo and name, or team name and mascot, artwork and create your design.
After you create your design, enter in your quantity and choose your customization method - screen printing, embroidery or digital transfer.
You'll get a free instant quote including built in quantity based, wholesale pricing.
All lightweight hoodie orders will receive fast & free shipping within the contigous US.
Need help? Our customer service team is live Monday - Friday, 8AM to 6PM and would love to assist you!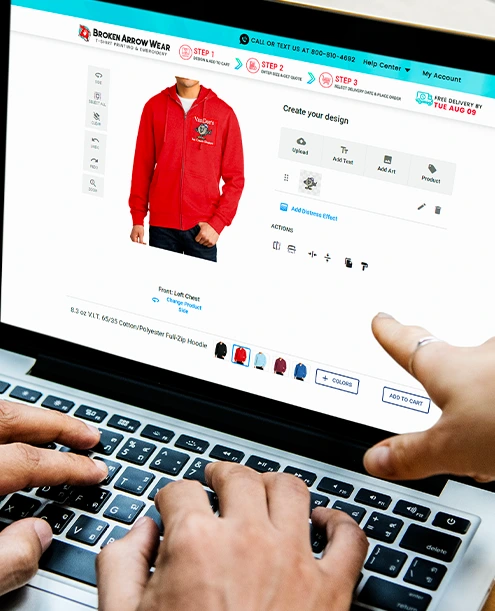 Customize Midweight Full Zip-Up Hoodies
Screen-printed full zip-up medium weight hoodies are a customer favorite because of their versatility. Customized full-zipper midweight hoodies are great to have on hand in the car, in the gym bag, and at the office.
Goldilocks chose "just right," - so can you. Custom full zip-up midweight hooded sweatshirts are just right for most purposes, especially if you live in a moderate climate. When the weather changes or the thermostat is set lower than your comfort level, there is always a little extra warmth and protection readily available. Full zip mid-weight hoodies are super convenient to slip on and off and give you other option for warmth: unzipped or partially zipped.
Full-zip medium weight hoodies are excellent for marketing your company or event. Participants in outdoor events appreciate them, especially on cool mornings or chilly evenings. They also make great customer giveaways, classy team warm-ups, and favorite gifts for your office staff, especially staff members that greet customers at the door or make customer visits.
Choose from all your favorite custom full zip mid-weight hoodie brands. Choose from all the popular zip up sweatshirt brand names at custom decorated prices that are often less than the price of undecorated sweatshirts a retail stores. You'll find Nike full zip medium weight hoodies, Independent Trading Company full zip medium weight hoodies, Hanes full zip up medium weight hoodies, Champion full zipper midweight hoodies, Sport-Tek full zip midweight hoodies, Gildan zip up midweight hoodies, New Era full zip midweight hoodies, American Apparel middle weight full zip-up hoodies, Bella+Canvas full zip medium weight hoodies, and more!
Can't decide which brand is best? To take the guesswork out of ordering the perfect mid-weight zip-up hooded sweatshirt for your custom screen-printed or custom embroidered order, check out our three medium weight zip-up sweatshirt choices at the top of the page. The prices for some of the top-rated mid-weight zip up sweatshirts are not much higher than the lower rated versions, but you will love the upgraded fit and feel.
Choose from multiple zip-up sweatshirt fabric choices. The full zip mid-weight hoodies shown here come in a range of fabrics from the popular super soft tri-blend fabrics, polyester cotton blend fabrics, quick dry polyester fabrics, and 100% cotton.