Richardson Stocking Caps & Beanies with a Cuff
Choose from solids, camo prints and even heathered knits.
---
Richardson Pom Pom Beanies
With a pom on top, these stocking caps are a fan and team favorite
---

Richardson Slouch Style Beanies
Slouch beanies rock the relaxed vibe, effortlessly coolifying any outfit with a touch of laid-back, urban, or boho style.
---
Richardson Micro Fleece
Custom microfleece beanies are great for keeping heat in and cold out. The sleek style is also great for wearing beneath a helmet or hoodie.
---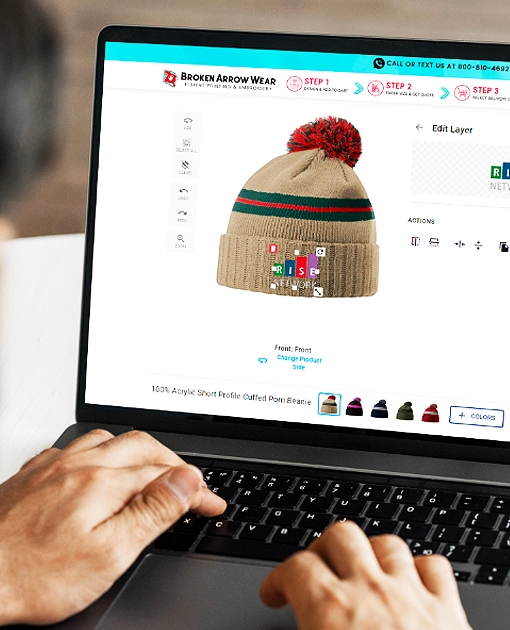 Richardson Beanies and Knit Caps for Custom Embroidery
Design your custom logo online through our easy to use, online design tool. Once your done, add to cart to order online and embroidery will be the default decoration method.
We have a low minimum orders requirement of just 6 pieces for all embroidery. Screen printing on beanies not recommended due to the stretch of the knit fabric.
Checkout online in minutes, we even offer the option to ship to multiple addresses or to add a name or number to the side of the cap.
Always fast and free shipping - no matter what your order quantity is!
Richardson Beanies and Knit Caps for Custom Embroidery
Richardson beanies provide great style, great comfort at a great price.
Most Richardson beanies are one-size fits most as they stretch over and hug your head comfortably.
Unlike baseball caps, most stocking caps do not have a brim.
Beanies come in many different colors and styles just like other caps. Embroidered designs add a memorable touch to Richardson knit caps.
Depending on where you live, you may refer to a Richardson beanie as a knit cap, knit hat, stocking caps, sock hat, tassel cap, ski cap, burglar beanie, snookie cap, dink, or even a dinkie.
People often wonder if you can combine a custom Richardson hat with the beanie on the same order to get the total quantity pricing break. Fun Fact: hats are embroidered from the center out where as beanies are embroidered right to left. Becaues they do not use the same type of file for embroider, we are not able to sew them together.