Read Time:
2 Minute, 31 Second
Branding 101: Three Effective, Inexpensive Ways to Promote Your Small Business
Be the go-to business everyone remembers by branding your company everyday everywhere.
1. Create a logo that is noticeable and readable.
The pink ribbon of Susan G. Komen for the Cure is a testament to the power of creating a great logo and applying it to all types of clothing from T-shirts to business ties to coffee mugs. Whether your budget is a hundred dollars or a thousand dollars, you can get your name out by simply wearing and sharing your logo.
Don't like your logo? Let Broken Arrow's talented graphic artists update your existing logo. Don't have a logo? Let our team create one for you.
Like Komen pink ribbon logo wear, your company's logo apparel and promotional items can provide an expensive way to advertise and brand your business—and (bonus!) team members never have to think twice about what to wear to work. Add your logo to office apparel, hats, event T-shirts, give-away coffee mugs, koozies, and more.
At Broken Arrow T-Shirt Printing and Embroidery, every team members wears Broken Arrow Logo Wear every workday.

When a Broken Arrow employee heads to the grocery store, the gas station, a restaurant or bowling alley, patrons see the Broken Arrow logo, name and a readable description of what we do.
2. Display your logo everywhere.
The first step toward being the most memorable business in your industry is to make sure people can't possibly forget about you. The more times someone sees your business's name, the more likely they are to remember it. Display your brand in big, bold lettering on:
your website
on social networks,
on company vehicles
on letterhead and invoices
on business cards and
on employee and customer clothing!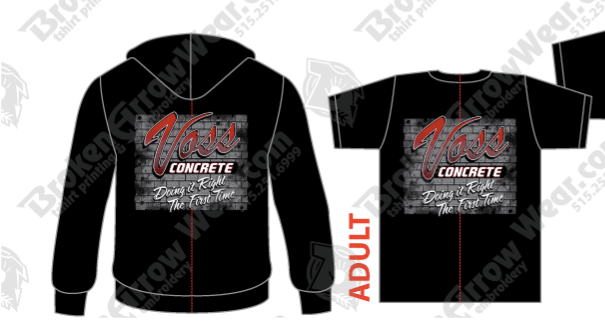 Every team member at Voss Concrete wears noticeable and attractive custom logo wear.
Everyone loves a free T-shirt. Give away cheap custom logo wear at local events such as parades and high school athletic events. The more people who wear your logo regularly, the more branding you achieve.
3. Make your website more effective and more visible.
Let's face it, you are reading this blog because you were able to find it on the web. To get your company noticed, people are going to need to be able to quickly find your company on the web. A custom website is the ideal place for you to showcase your products and services. For example, if you are the best dance studio in Portland, your website can showcase what and where you teach, how talented your instructors are, and how potential clients can be become a part of your dance team. To ensure your website is easy to find and navigate, ask current customers to critique your website, and then take their feedback to heart and make suggested improvements. Attend a seminar on Search Engine Optimization and educate yourself on how search engines work. This tutorial is super useful and free!