Wholesale Custom Hoddies
Are you looking for a great deal on custom hoddies? Well you have come to the right place! At Broken Arrow, you will always get a great deal on custom hoddies or anything else you are ordering, because all of our pricing is wholesale! We know everyone wants a great deal, so we give all of our customers the best possible pricing right off the bat! And, you can save even more with bulk quantity discounts and price breaks at about every dozen, so the more you order, the more you save!
---
Digital Printing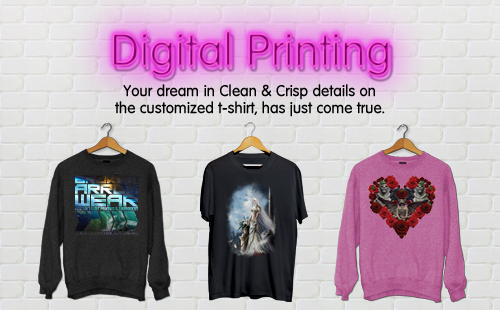 Broken Arrow has bulk quantity discounts but that doesn't mean you have to order a boat load of custom hoddies to get a great deal! With digital printing, you can order any quantity you would like - even single pieces! That's right! Custom hoddies with no minimum order requirement are available at Broken Arrow! Check out handy online designer where you can whip up a super rad design and place your order for any quantity of custom hoddies right online.
Design Now
---
Screen Printing
Screen Printing is our most common method for custom hoddies, and is available with at least 6 shirts in the order. With screen printing, you'll get a vibrant print that is durable and long lasting. And, you can also get awesome special effect inks like glitter, high density, cork, suede, glow the dark, foil, and more! Screen Printing also works on any fabric type, so you can get performance hoddies, cotton hoddies, lightweight or heavyweight - whatever you prefer!
---
Personalized Apparel
Make your custom hoddies truly one of a kind with personalization! Add personalized names or numbers to your apparel as the perfect finishing touch for your team, club, business or special event!