Top Quality Screen Printing
When you are looking for the best online custom t-shirts, you need top quality screen printing! Sure, lots of companies offer cheap custom t-shirts, but to be the best, you need quality screen printing as well. At Broken Arrow, we have been in the screen printing business for over 25 years, and have printed over ten million t-shirts! Our production department is highly trained, and utilizes state of the art screen printing equipment to give precision prints. And, we have a whole team of quality control technicians that review each item to make sure it is top quality!
---
Online Designer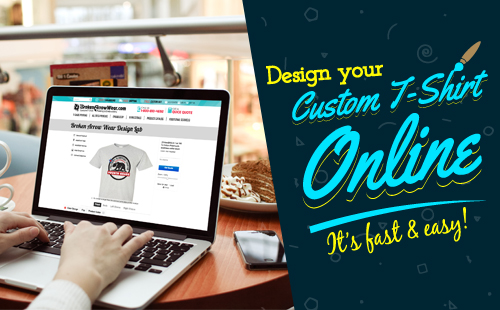 Get the best online custom t-shirts quickly and easily using our online designer! You can upload your design, or create a custom design right online with our handy online designer. The online designer allows you to get the best online custom t-shirts anytime, day or night, whenever it is convenient for you. The entire ordering process can be completed online, so you can order the best online custom t-shirts no matter where you are located.
Design Now!
---
Cheap Pricing
In addition to the best online custom t-shirts, Broken Arrow has awesome cheap prices! All of our pricing is wholesale, so you get a great price all the time. You don't have to worry about catching a sale or finding a coupon code - you will get a great price each and every time you order. And, enjoy bulk quantity discounts with price breaks at about every dozen up to 72, and then 100, 144, 200, etc. The more you order, the more you save!
Fast Turnaround Time
Perhaps the best part of getting the best online custom t-shirts from Broken Arrow is the super fast turnaround time. Your order is complete within 4 business days and ships out the following business day. Need custom artwork? No problem! Our team of artists are quick too and have your proof ready within 1-2 business days! Don't wait weeks, get your custom t-shirts fast from Broken Arrow!