Custom Brooks Brothers Mens Garments
Brooks Brothers classic oxford and wrinkle free shirts will keep your looking great and feeling fresh.
---

Custom Brooks Brothers Men Sweater/Jacket
Show your company pride and stay warm and cozy in custom logo Brooks Brothers outerwear.
---

Custom Brooks Brothers Womens Shirt/Blouse
You'll love the way custom Brooks Brothers women's apparel fits and looks wear after wear.
---

Custom Brooks Brothers Womens Outerwear & Jackets
The classic way to stay warm this winter is by wearing custom embroidered Brooks Brothers jackets and sweaters.
---
Brooks Brothers Bags & Accessories
Round out your name brand look with Brooks Brothers briefcases, backpacks, and duffel bags.
---
Customizing Brooks Brothers
Not sure which method you want to use to customize your Brooks Brothers garments? Here is a guide to help you choose: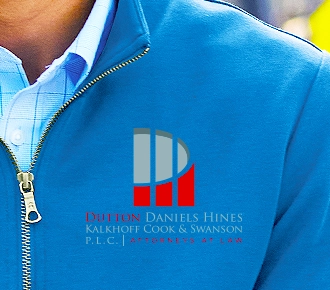 Screen Printing
While we do offer embroidery on cotton tees, a heavyweight one is highly recommend to give the embroidery enough support to sew cleanly and look great.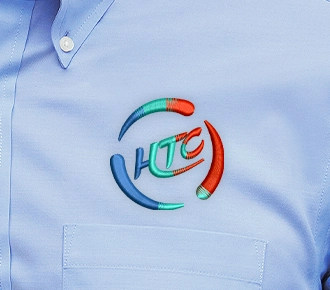 Embroidery
Custom Embroidery is the decorating method of choice on most Brooks Brothers button downs, polos, and most jackets. Always Free Digitizing and a low 6 piece minimum order!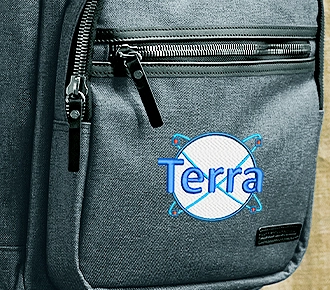 Patches
Choose from Embroidered Patches or Leather Patches. We will create a patch and then sew it directly onto your gears. Please allow 2-3 extra weeks for delivery.
---
Learn More about Brooks Brothers
You'll know your in official Brooks Brothers product when you see the sheep hanging by a wreath. Established in 1818, Brooks Brothers has a really recognized logo.
If you are looking for professional work wear, Brooks Brothers is one of the best choices. Look polished and dressy. Great for doctors, lawyers, executives and sales people. They offer more casual wear as well such as polos and blouses, perfect with jeans.
While Brooks Brothers was traditionally a retail brand only, they realized that business people wanted their logo on their favorite, well fitting product. Brooks Brothers entered the wholesale decoration market to merge their customers 2 favorite things...their business and their Brooks Brothers.
Did you know that 39 presidents wore Brooks Brothers? Its true! With the highest quality and sharpest look, can you blame them?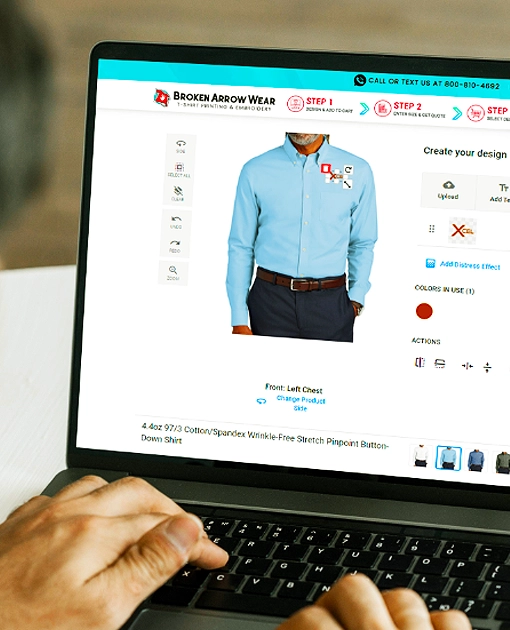 Design Brooks Brothers Online in Minutes
If you need just a few items or want to order in bulk, you can design and customize your own Brooks Brothers item now.
Upload your company logo or create one! In our easy to use design tool, we have clipart, fonts and templates to choose from.
Need help with a custom logo? We have a great design team that can turn your ideas into a logo that can be sewn or placed on Brooks Brothers items.
Your logo Brooks Brothers items will be delivered fast, and for free! Choose your delivery date at checkout to pick when they arrive to your door.
Have questions about custom screen printed or embroidered Brooks Brothers garments? We human beings love talking to other human beings. Call or text us today.
Frequently Asked Questions about Brooks Brothers
In 1818, Henry Sands Brooks opened H. S. Brooks & Co. in Manhattan, New York. Sands motto was to make and sell merchandise of the finest quality at a fair price. In 1833, his four sons inherited the family business and in 1850 renamed the company Brooks Brothers.
Brooks Brothers is known for long lasting quality apparel, and of course the Brooks Brothers logo and famous Brooks Brothers logo buttons.
In 2020 Brooks Brothers was purchased by Authentic Brands Group and by SPARC Group LLC. The quality remains the same as before the purchase.
See the images above. Custom embroidery and heath transfer patches are the most common decorating methods, but feel free to give us a call if you have something else in mind.
Yes, we do. That's why you'll find you can add a custom logo to any Brooks Brothers item we carry for often less than full retail prices.