Welcome to the BrokenArrowWear.com
Fast Internet Quote System
Getting a quote for custom apparel has never been easier!
To begin, simply choose the type of decoration that you would like for your garments, or if you would like to browse our online catalog, you can simply choose the garment type you are looking for.
Your Satisfaction is our #1 Priority
At Broken Arrow, our standards are high. We are a team of professionals working to produce the highest quality custom garments in the industry. Every garment goes through our stringent quality control department, assuring that our goods always surpass your expectations. Premium quality products delivered with a smile... on time, accurately, and shipped exactly when you need them. Your business is our priority and you can expect quality and consistency with every order you place with us.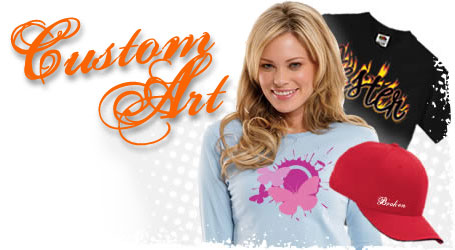 The Best Art in the Business!
Broken Arrow brings your ideas to life, be it on t-shirts, sport shirts, sweatshirts and so much more. Our art designs are the best in the custom garment industry as we have an art department with over 20 years experience of creating custom art for screen printing and embroidery. Artists are available for custom car art, business logo design, unique designs for fundraisers, parties, booster clubs, camps, reunions and gifts. This highly qualified art team is always available to create your unique garment art.
Decoration
Garment Type
BrokenArrowWear.com Sitemap
Custom Screen Printing & Embroidery Services