Stylin'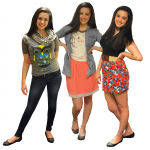 Redefining the T-Shirt: Not just your Monday morning throw-on anymore
Think t-shirts only compose one of those "my alarm went off late and I had ten seconds to get ready" outfits? Think again.
A t-shirt and pair of sweatpants may be the lazy, go-to getup of the early morning masses, but when paired with the right accessories, a well-worn t-shirt can emphasize any outfit. Check out these tips to breathe some new life into your tees.
One: Ditch the sweatpants.
Comfort is cool and all. But looking like you rolled directly out of bed and into the public—not so much. There is a fine line between "casual" and "pajama," and if you can opt out of the baggy garments, your t-shirts will take on a new look that doesn't broadcast "lazy night in." Instead, wear colored jeans or a patterned, high-waisted skirt (skirts pair especially well with fitted V-neck tees).
–Kayli Kunkel
**Stay tuned for the next installment!